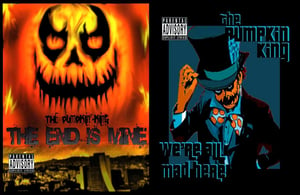 $

10.00 - On Sale
We're All Mad Here - says it all, the new album featuring some of the underground best known and unknown artists.
Featuring..
GrewSum, D-Rangd, 5:AM, H8trid, Nick Rage, Durte, Ill Prodigy, and Dem Korrupt Boyz!
OR
The new full length cd from THE PUMPKIN KING!
Featuring 15 new tracks, with guest appearances by GrewSum, Intrinzik, Sutter Kain, Wolfpac and more!
1. Winds of Change.
2. The End Is Mine.
3. Bump This Thing (with Intrinzik)
4. Volitale.
5. Whatcha Got Now.
6. Take A Hit (feat. Dem Korrupt Boyz)
7. Controlled.
8. Mind of a Maniac (feat. Sutter Kain).
9. I'll Show You Controversy.
10. Never Bring Me Down (feat. GrewSum).
11. Bury Me.
12. Can't Hurt Me.
13. Hidden Face Army (feat. Harlekin Menschenfeind)
14. What is Underground?
15. Underground Anthem (feat. The Wolfpac)
© Copyright - The Pumpkin King 2012 - All Rights Reserved